Refusal of make-up – this rarely happens. In modern society, it is considered the norm to embellish oneself; there are frequent cases when nothing remains of natural beauty. Sometimes, probably, makeup is indispensable. Somewhere, a dress code requires this or an event of some special solemnity. Sometimes – for the soul.
The current selection contains photos that are accompanied by explanations of the girls in the pictures. They tell how the attitude of others is changing – in the presence of "war paint" and without it.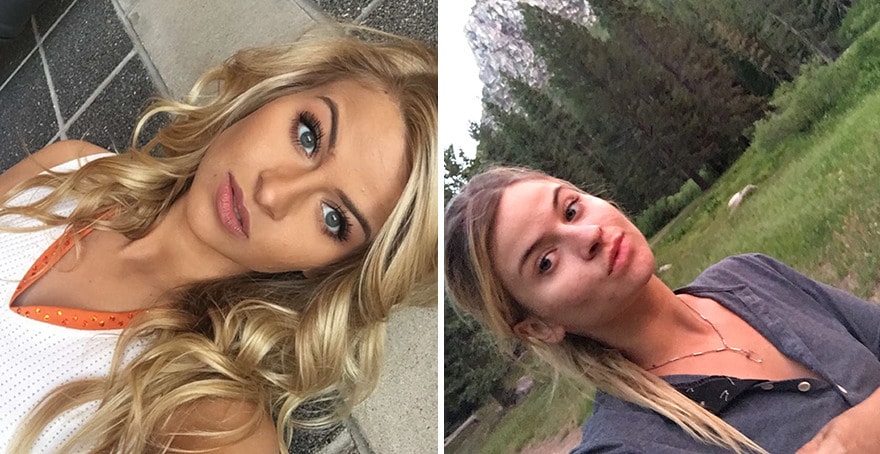 Rachel Rene
According to her, without makeup, others perceive her as an ordinary person, occasionally she receives compliments, but without fanaticism. The situation has changed and is changing, it is worth it to apply makeup. At school, for example, guys were afraid to approach her, because the girl seemed to them "too cool." The same has been preserved in more adult life.
"Some women tried to fight me, as their husbands looked at me. With full make-up, I could go to the club on the VIP track even before I turned 21. I was offered a lot of money for "my time", which never happened when I was without makeup. "
With makeup, it turned out to be easier for her to look for work, getting more interesting options, the boyfriends also turned out to be richer and more generous.
"Over the past three months I have used makeup once," added the girl, who had previously been forced to use it daily for eight months.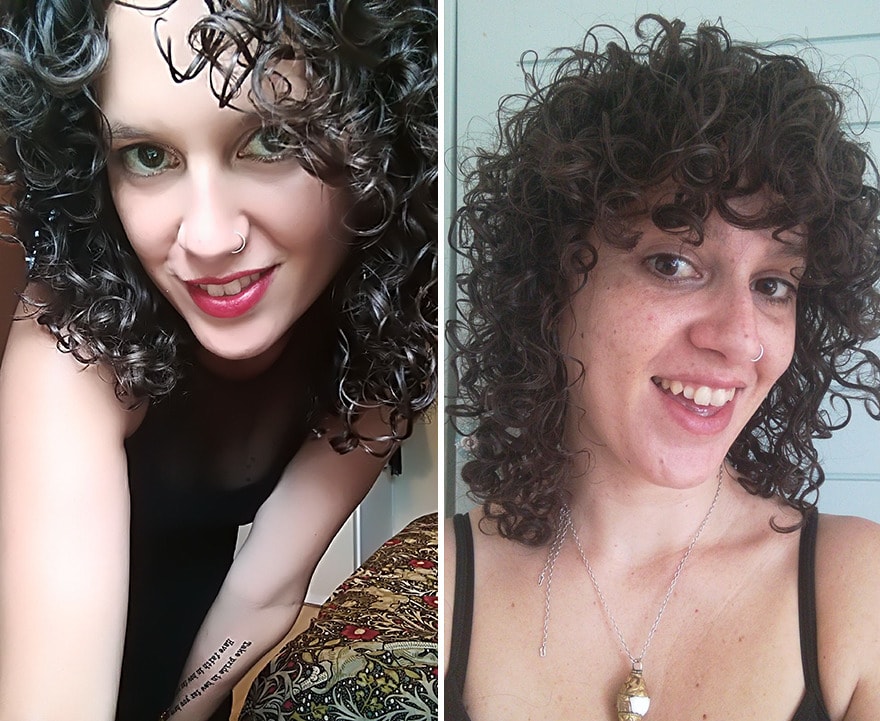 Dawn batsford
According to the girl, those around her perceive her extremely differently – when she is with makeup and without. Dawn said that she rarely uses makeup and, as a rule, looks "normal", nobody turns her head in her direction. "And I like it – I'm an introvert."
"I work mainly at home, crowding makes me nervous, and being" invisible "suits me the most. Very rarely I do makeup – to meet friends and things like that. I'm not on FB, Instagram, Twitter, I'm not looking for attention, I don't need it. "
She added that she met her boyfriend when they both worked in the kitchen – and there is makeup, as you might guess, not the place.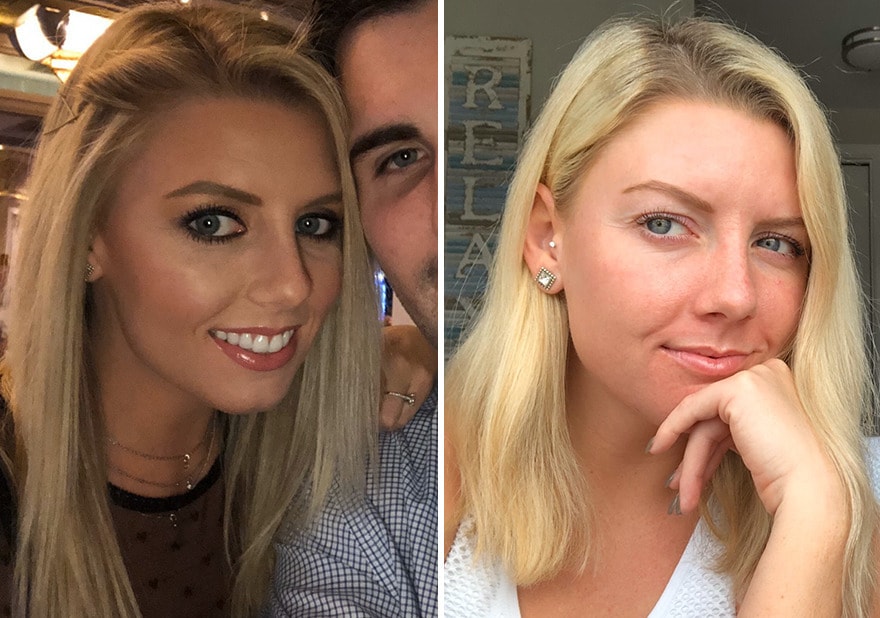 Shannon nirnberger
"I very rarely go out without makeup. With full / club makeup, people become more friendly to me. Very friendly. I get a lot of attention, even if at this moment with my husband.
Often I feel like staring at me or just holding my eyes. It's easy for me to join a new company, usually I'm a welcome guest. When I'm with make-up, compliments fall in without interruption. "
With everyday make-up, the situation is "easier" – "people are just nice to me." "When I'm without makeup (only with eyebrows and a little mascara), I feel like an ordinary person."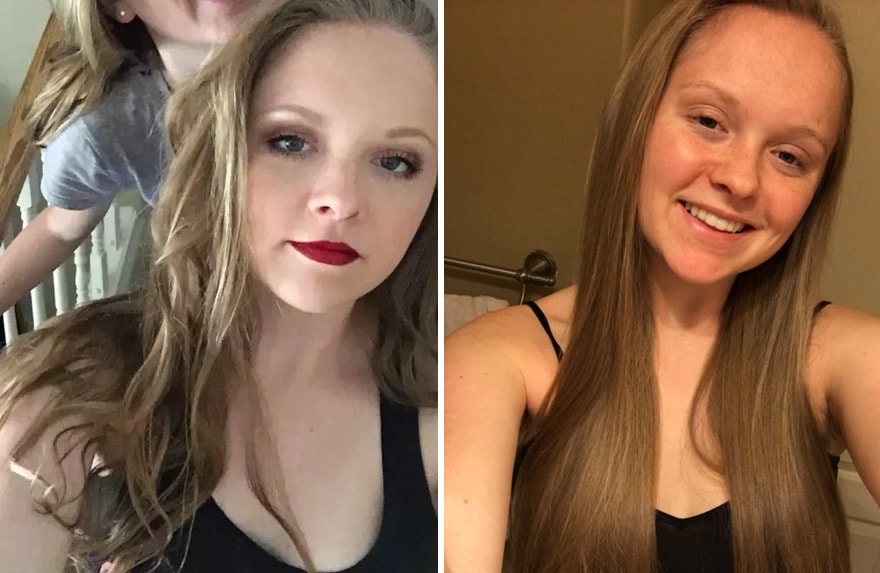 Hannah Elizabeth
"I am a natural blonde with light eyebrows and eyelashes. Therefore, I often hear: "Where did your eyelashes go?" Other blondes will understand me. Therefore, when I do not use mascara, they will certainly ask me if I'm sick, if I'm tired and so on. When I apply mascara, people around think that I do not use it and natural eyelashes.
I usually get compliments when I use makeup, "says the girl. And he adds that he is trying to use it minimally.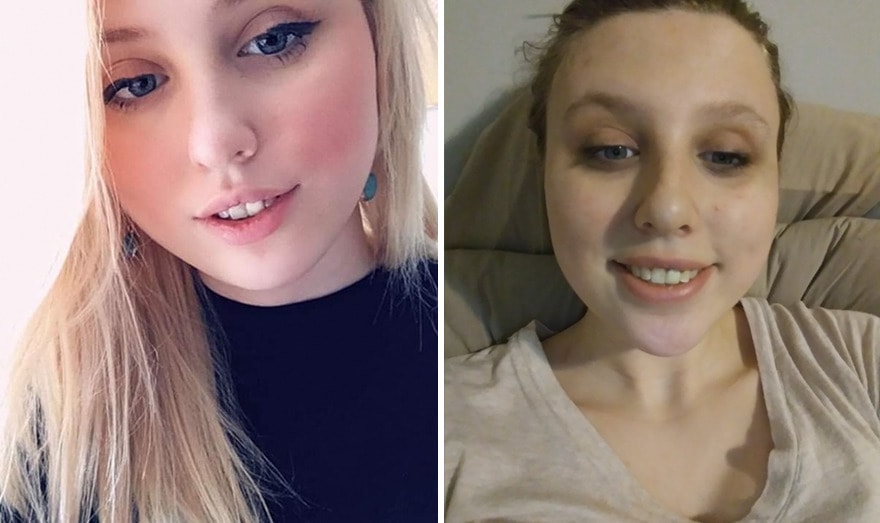 Emily F. Marsico
"When I'm with make-up, men roll me up all the time. I get messages on the network, if I post photos, they may approach me on the street. Married and busy men can stick to me at work – I have had such cases. "
According to her, women sometimes behave disgustingly, delete the girl from the list of friends.
"Once a particularly jealous roommate came to me at night when I was sleeping and called me. When I got up, she moved me in the face. Some kind of madness. And when I am without makeup, they perceive me as an ordinary person, I mix with the crowd and do not get so much negative attention. Girls become more affable, and men see me as a friend, not a weird sex toy. "
Emily noted that the best thing about makeup is that you can not wear it. And when he is, those around him see their appearance, not their personality, and "it's annoying."
Amanda Dewes
"I very rarely use makeup, and if I do, then as a work of art or very, very rarely, when I want or need to look good. "I don't hear from others" you look bad "when I'm without makeup, but I'll get a lot of compliments if I am with makeup."
According to the girl, before, she didn't do too well with makeup and she heard from others how terrible she looked with him. But gradually I found a middle ground, and now there are no questions with this.
"When I am without makeup, I become invisible. Although the situation with makeup is almost unchanged. But in social networks everything is different. "

Charlotte Green
"The only thing that I more or less like in my body is the face. Although my face is quite beautiful and so, with makeup – 10,000 times better. With make-up, I am much more confident in myself and get many times more attention. I used to wear full makeup daily, now I try to do without it 90% of the time. But I'm a different person with him, "says Charlotte.
According to her, the attitude of others varies depending on the amount of makeup – from "ordinary respect with a minimum of makeup to noticeable attention with full." "Unfortunately, people are more comfortable talking when I'm wearing makeup, but they appreciate the mind when there's no makeup."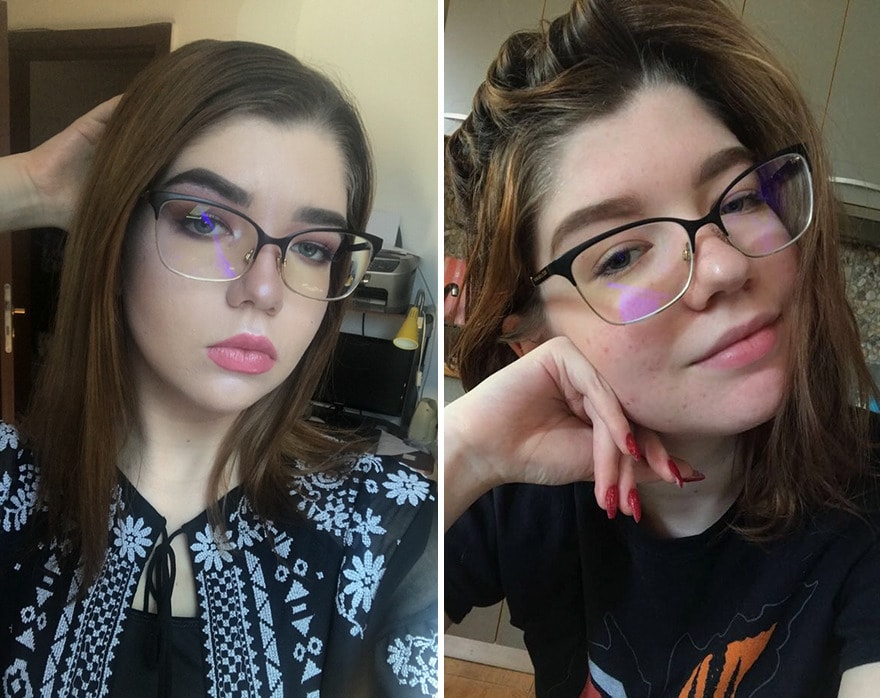 Alexandra Mizila
"Without makeup, I look like an egg – because of the almost colorless eyelashes. Now and then I have problems with my skin. If I suddenly go outside without makeup, they will probably consider me a child. Therefore, I don't have a photo where I'm absolutely without makeup, "the girl explained.
According to her, the main thing for her is her own comfort and confidence, which require makeup.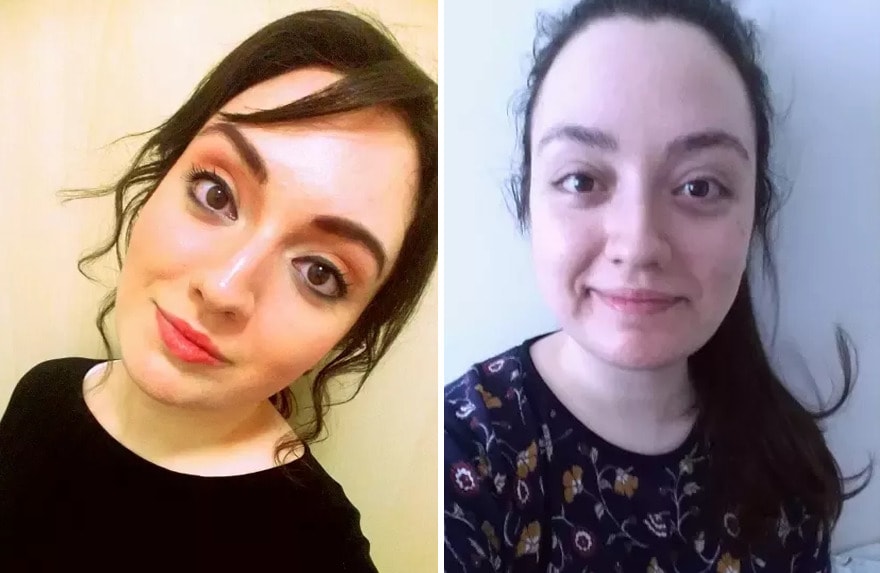 Sue Crowk
According to her, she notices the difference in relation to people when she comes out with and without makeup, to which the girl devotes a lot of time. Women usually praise her for the work done and specify what kind of makeup she uses. "In this situation, I feel like an advertising stand."
"When I don't want to be noticed, I don't use makeup," she adds. This is what a girl does when she goes to a cosmetics store, after groceries, after insomnia, or when she doesn't feel the need.